Welcome! Welcome! Swoony Saturdays are your opportunity to be introduced to a book hero who fits high quality hero characteristics. (okay, so he just makes us weak in the knees for all kinds of reasons, but you get the point)
The photos involved are chosen as the most representative of the heroes featured, so IF they look like someone you've seen before, that's almost entirely accidental.
Earlier this week I posted a review for one of my favorite books, Kissing Adrien (you can find my review HERE). Next we travelled to Paris with Book Journeys (travel with us HERE). And today, we are swooning over the hero…Adrien.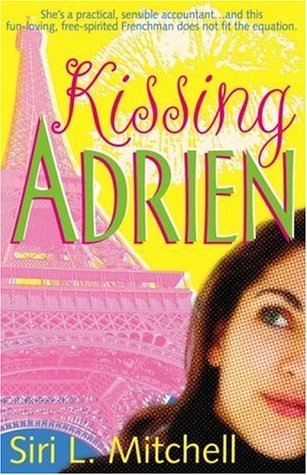 Who? Adrien Delaporte
Where can we find this dreamboat? Kissing Adrien by Siri Mitchell (Harvest House, 2005)
Personality summary: Confidante, funny, compassionate, and flirty, Adrien Delaporte is the quintessential French good guy. Since Kissing Adrien is first person from Claire le Noyer's point of view, we don't get firsthand ideas of what Adrien is feeling, but boy, oh boy, Siri describes this gorgeous specimen of European manhood's emotions so well as seen through Claire's eyes.
Adrien has been Claire's childhood friend – now 10 years after their last meeting, they're brought together again in the City of Love and Light to settle the estate of a mysterious aunt of Claire's. The mystery of this aunt continues to keep Adrien and Claire in close proximity, and despite Claire fighting tooth-and-nail against how Adrien tries to get Claire to think outside the box, eventually the truth of her being loved and beautiful transforms this insecure workaholic into someone much more like she was created to be. Love does that, you know 😊
What makes us swoon?
Seriously, this guy is pretty adorable. Funny, confident, flirty…AND he loves Jesus!!!!!!
He's clever
He's sexy
He's French
Author Dawn Crandall had this to say: "his mysteriousness, his intensity, his charm, and his amazing enigmatic draw. His tantalizing conversation. The man oozes sexiness in the most casual way."
He sees all the beauty in the heroine and wants her to see it too.
He knows the heroine and takes special care to show her he's interested in her.
The man is intense and a wee bit stubborn in the most delightful of ways.
His BLUE eyes
Smells like lime
This is Adrien's "official" description from the book: "The interesting thing about Adrien was the synergy of all his parts. He was tall and lanky. Lithe and energetic. He had dark hair, bright blue eyes, and a perpetual tan. A largish nose and nice white teeth. But what pulled it all together was his personality – part clown, part diplomat – and the strange desire he created in those he talked with to make him laugh."
He apparently has very nice ears as well, because our heroine Claire says this: "They were very nice. And clean. You can't say that about everyone's ears."
Kissing level of such swooniness: Okay, Adrien's all around swooniness ups this rating even though there's just one daggone kiss in the ENTIRE BOOK because when he does kiss…well, he's as intense in his focus of that kiss as he is in the rest of the story. It's a definite 4…if she'd written further kisses, I feel certain they would have been 5s…or higher.
Basic hero type: I'm saying he's a Knightley with swagger (maybe with the intensity of Darcy sprinkled in for an additional swoon-factor)…what do you say? He's the heroine's friend, but he holds her to the fire on several issues to draw her out of her complacency and unhealthy thinking patterns. . When he realizes his own feelings, he's intense in his pursuit, but still respects her uncertainty enough to gently 'find' her…at her heart.
How can I meet this swoony mister? Find on  Amazon
About the Author
Siri graduated from the University of Washington with a business degree and worked in various levels of government. As a military spouse, she has lived all over the world, including Paris and Tokyo. Siri enjoys observing and learning from different cultures. She is fluent in French and loves sushi.
She is also a member of a strange breed of people called novelists. Siri wrote 4 books and accumulated 153 rejections before signing with a publisher. In the process, she saw the bottoms of more pints of Ben & Jerry's than she cares to admit. At various times she has vowed never to write another word again. Ever. She has gone on writing strikes and even stooped to threatening her manuscripts with the shredder. Visit her website to learn more.
Kissing Levels & Hero Types